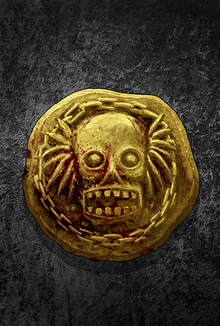 There are 10 coins in each deck by default, which are initially Ducats when playing as Vespitole or Metris, Tauris when playing as Daramek, and Dinars when playing as Endazu. Despite the different names and looks, they all serve the same purpose and have the same value across all factions. Each player starts with 4 coins in hand, and the rest form the base of the deck.
Special Coins
Edit
There are 13 special coins in the game, each with a special unique effect. One coin is exclusive to Kickstarter backers, one is gained from the Tournament, while the others are available in card packs as Epic quality cards. These can be used to replace your 10 default coins, and if you collect multiples of a single coin it can be used that many times.
(*) Awarded from leveling a Tournament Hero to 28 (**) Humble Bundle coin (***) Kickstarter coin
Ad blocker interference detected!
Wikia is a free-to-use site that makes money from advertising. We have a modified experience for viewers using ad blockers

Wikia is not accessible if you've made further modifications. Remove the custom ad blocker rule(s) and the page will load as expected.