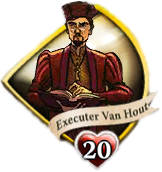 Executor Van Hout is a member of the Equitable and Honourable Company for Maritime Assurances.
Personality
Edit
Like many in his line of work, Van Hout is very much the type to speak as if reading from the script of rules and regulations. Naturally, he loves both. He does his job to the best of his ability, but his loyalty is not unassailable if one has more profitable deal to offer.
Ad blocker interference detected!
Wikia is a free-to-use site that makes money from advertising. We have a modified experience for viewers using ad blockers

Wikia is not accessible if you've made further modifications. Remove the custom ad blocker rule(s) and the page will load as expected.