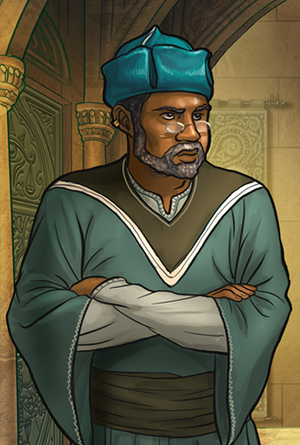 "
After one strikes with deliberate intent, expect no code to be followed in response.
"

–Regent Ashkar
Ashkar is a teacher at a university in Jethes. He taught Listrata in the art of war until the young lady invaded the Pheneketian Islands. At the end of the conflict, Ashkar, disgusted with what his student had done, turned against Listrata.
He is the first opponent featured in Listrata's campaign.
Personality
Edit
Ashkar appears to be a very stern man. He is wise and, through his teachings, tries to pass on this wisdom to his pupils. After watching Listrata slaughter the innocents of the Pheneketian Islands, he described her as an "Ausonian thug". During her time at the university, Listrata was always an outcast, and it is possible that Ashkar treated her the same way to an extent.
It is unknown for how long Ashkar has taught at the university. Given his knowledge of warfare, it is reasonable to assume that he either has tactical experience himself, or has learned from his predecessors. He left Dalmiria with Listrata during her invasion of the Pheneketian Islands. It is unknown why he chose to do this. He is presumed to have returned to Dalmiria after the fight that followed.
Ad blocker interference detected!
Wikia is a free-to-use site that makes money from advertising. We have a modified experience for viewers using ad blockers

Wikia is not accessible if you've made further modifications. Remove the custom ad blocker rule(s) and the page will load as expected.